With a spectrum of wood tones, pastel shades and vibrant colours to choose from, changing the appearance of a garden shed has never been easier. Whether looking for subtle window and door frame highlights or the full beach hut look, our shed paint guide will help you to decide.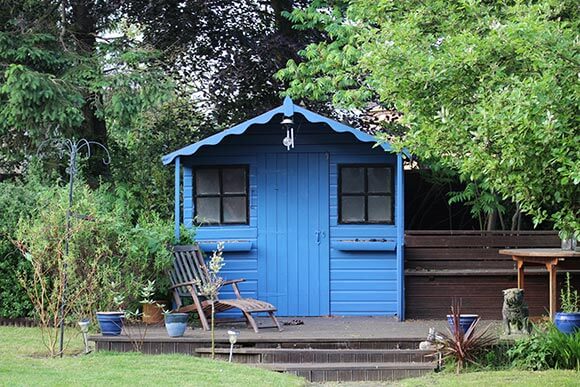 What is shed paint
By definition, a paint is a substance that coats and colours a surface with an opaque finish. When it comes to shed paint, things aren't as clear cut.
Traditional paints on exterior wood such as garden sheds can be problematic. Over time, they tend to crack, flake and peel as water gets under the surface of the paint. Unfortunately, this can mean stripped and re-painting the shed several years down the line. Anyone who has done this knows that stripping paint from rough sawn timber is not an easy or pleasant job.
Which is the best shed paint to use?
Many products labelled as garden wood of shed paints are actually wood stains. This is great as rather than coating the wood, they stain it meaning that it will not crack, peel or flake over time. To maintain the look, a fresh coat can be applied every 2 or 3 years or as an when required to refresh the finish.
Recommended shed paints
Deciding on which is the best shed paint largely depends on individual preferences on colour, type of finish and maintenance expectations as well as budget. The following are some of the most popular shed paints on the market, all of which offer a different range of colours and finishes.
When and how to paint a garden shed
Ideally, the best time to paint a garden shed is when it is new and when the weather is fair, ideally spring or summer. New sheds can be treated with a clear wood preservative prior to painting. If done before the shed is constructed, the ends of the shed panels can also be treated providing better long term protection for the shed.
If using a wood or shed preservative prior to painting, ensure that the correct type is used. For water-based shed paints, ensure that the preservative does not include wax, oil or silicon. If painting with an oil-based stain or paint then preservers that contain wax are fine.
Painting old sheds
Old sheds must be clean, dry and free from surface contaminates prior to painting. Any traces of mould, algae, green or black staining on the timber must be cleaned and treated prior to painting.
Scrape off any surface mould or algae with a paint scraper or stiff brush
Treat the whole shed with a mould and mildew cleaner
Treat a second time if the mould, mildew or algae is particularly bad
Allow the shed to fully dry
Treat the whole shed with 2 coats of a suitable, clear wood or shed preservative
Allow the preservative to dry fully
Paint the shed taking care to coat evenly
Need to know more about shed preservatives? Read our guide on shed preservers here.