Shed paints come in a huge range of pastel shades, vibrant colours and natural wood tone colours. This means that changing the appearance of your garden shed, new or old, has never been easier. Whether looking to just highlight your shed window and door frames to add some character, or go for the full beach hut effect, there's a protective garden shed paint for all shed interiors and exteriors.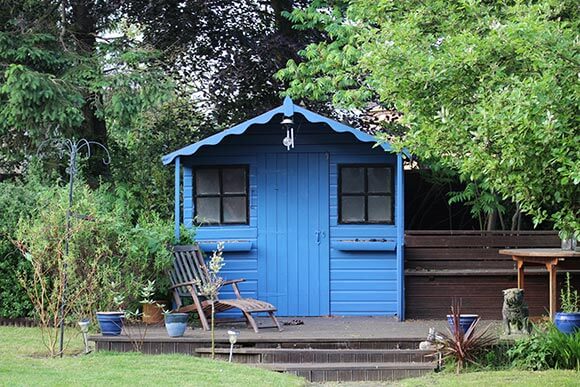 Why paint sheds
Other than to change the appearance, painting a shed with a protective wood treatment or paint is a great way to protect shed timbers from weathering, water-ingress, and rot. Without paint or an alternative wood protective treatment, water will penetrate into the timbers. This can lead to all sorts of issues such as swelling, twisting, and warping as well as mould, algae, and rot, all of which will shorten the life of a shed considerably.
Modern garden paints are flexible and resistant to weathering. They move with the wood as it expands and contracts with temperature and moisture making them ideal for all smooth planed, tongue & groove, rough sawn, featherboard, or shiplap garden sheds. Many exterior wood paints or garden paints now offer guarantees of anything up to 10 years, making them perfect for the long term care of wooden sheds, summerhouses, and log cabins.
What is a garden shed paint?
By definition, a paint coats and colours a surface with an opaque finish. With sheds, things aren't as simple. The term 'shed paint' is sometimes confused with other wood care products that are used to colour and protect sheds, usually to shades of brown or green such as shed preservers, shed stains and other oil-based shed treatments.
Which is the best shed paint?
Deciding on the the best paint for a shed largely depends on individual colour preference, type of finish, maintenance expectations, and budget. To help, we've compiled a shortlist of the best performing and most popular garden paints that are suitable for wooden sheds, summerhouses and more.
Top 5 recommended garden paints for sheds
These garden paints have received great customer reviews and offer a wide range of shed paint colours, including a variety of grey shed paint options, that can provide a clean, modern look to sheds and other wooden garden buildings.
More Top Garden Shed Paints on Amazon
Can shed paints be used on rough and smooth timber sheds?
Garden paints can be used on both smooth planed timber and rough, feather-board type sheds, log cabins and summerhouses. Sheds and other garden buildings made with rough cut timber will be more porous than those made with smooth timber. These means that you will likely use more paint on rough timber than smooth. The final colour of the paint may also be stronger due to more paint being absorbed by the more porous surface.
Never use an interior emulsion, gloss or other paint to paint your shed. These are simply not designed to withstand the weathering or temperature extremes that exterior paints are designed for and will soon degrade, peel, flake or wear off.
Is there such a thing as clear paint for sheds?
By definition, a paint is a product that produces an opaque, coloured finish, that covers a surface. If looking for a clear shed treatment, then consider either a clear shed oil, clear shed preserver or clear shed varnish, all of which will protect sheds from weathering, whilst retaining the natural look of the wood.
Garden paints for shed interiors
The shed exterior has been cleaned, painted, made weatherproof and is looking pretty swish. But what about shed interiors? The good news is that after taking the time to keep the exterior protected and looking great, shed interiors can also be treated, to keep them protected, looking great and more homely. To find out more, see our Interior shed paints and treatments guide.
When and how to paint a garden shed
Ideally, the best time to paint a garden shed is when it is new and when the weather is fair, ideally spring or summer. New sheds should be treated with a clear wood preservative before construction. Treat all surfaces including the ends and edges of all shed panels to provide the best long term protection for the timber.
If using a wood or shed preservative prior to painting, ensure that the correct type is used. For water-based shed paints, ensure that the preservative does not include wax, oil or silicon. If painting with an oil-based stain or paint then preservers that contain wax should be fine but always check cross compatibility between paints and preservers before starting any project.
Painting old sheds
Old sheds must be clean, dry and free from surface contaminates before painting. Any traces of mould, algae, green or black staining on the timber must be treated and cleaned off.
Scrape off any surface mould or algae with a paint scraper or stiff brush
Treat the whole shed with a mould and algae spray to kill off mould and algae spores in the wood fibres
Treat a second time if the mould, mildew or algae is particularly bad
Allow fungicidal wash / mould and midew cleaner to fully dry
Treat the whole shed with 2 coats of a suitable, clear wood or shed preservative
Allow the preservative to dry fully
Paint the shed taking care to coat evenly
Alternatives to painting a shed
In reality, most garden fence paints and fence stains are perfectly suitable for protecting, weatherproofing and colouring wooden sheds. Alternatively, there are a wide range of clear, semi translucent, and opaque wood oils, ideal for garden sheds, log cabins and summer houses. Whereas paints coat the wood, It's worth remembering that wood oils and many wood stains work by penetrating into the wood to seal and protect the timber.
If a shed has been previously oiled, and certainly within the last 2 or 3 years, it may not be possible to use a water-based shed paint, as the oils within the wood will prevent the paint from bonding with the surface of the wood. If the shed was once oiled but more than a couple of years ago, chances are that the oil content of the wood has depleted and it may now be possible to paint the shed. Doing test areas is highly recommended to check for any adhesion issues.
Need to know more about the full range of shed treatments? Read our guide on shed treatments here.
Garden Shed FAQ's
Can't find the answer to your garden shed care or maintenance project above? See our frequently asked garden shed questions and answers page, where we try to answer some of the more commonly asked questions relating to garden shed care, maintenance, and shed treatments.