How you preserve and maintain a garden shed, summerhouse or log cabin can depend on if it's new or old and its condition. Any previous treatments can also have an influence on which products can or cannot be used and the final finish.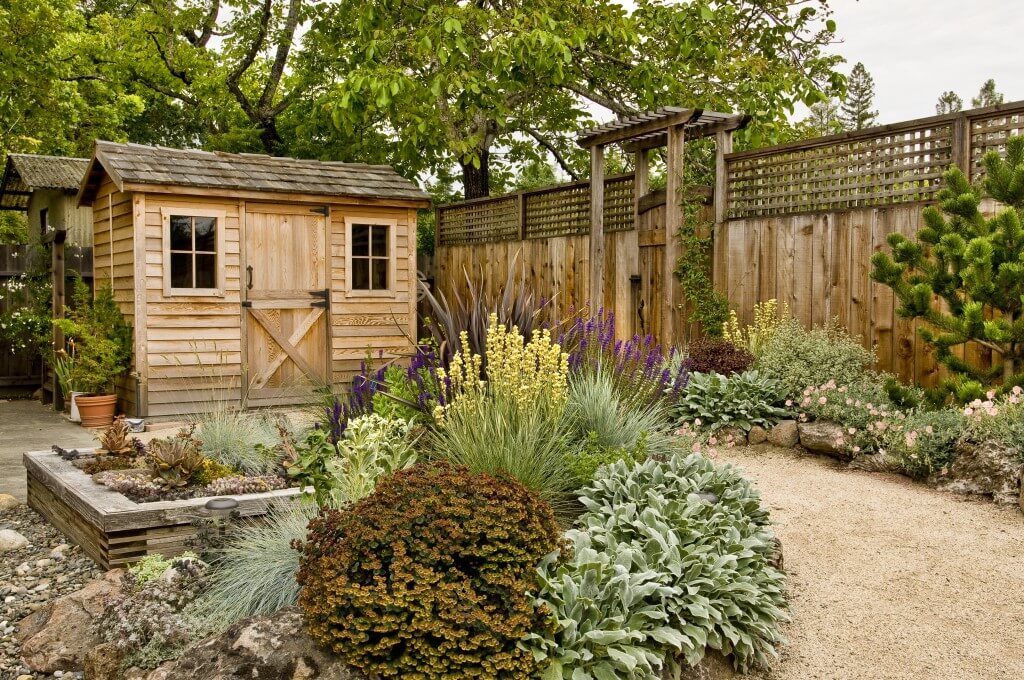 Once you know where to start and how you want the shed to look once completed the rest is easy.
Which Shed Treatment?
There are essentially 5 types of treatments that can be used to preserve, protect and if need be, colour a garden shed. These are…
Shed Preserver
Solvent based wood preservers penetrate deep in to the wood to protect the timber against mould, algae, dry rot, insect attack and other wood related diseases. When using a wood preservative it's important to consider if the preservative is going to be over-coated with a paint or wood oil. Many preservers contain a small amount of wax and although this is fine when over-coating with an exterior wood oil or decking oil, it will repel water based paints and stains. More information on shed preservers here.
Shed Paint
Adding colour to a garden shed brings colour and style to outdoor living spaces. Now more popular than ever, there are a wide variety of garden paints in soft pastels and striking shades that are perfect for wooden garden sheds. More information on shed paints here.
Garden Shed Stain
The definition of a garden shed stain can be blurred as a number of products that can be used to protect a wooden shed can also be used to colour it at the same time. For example, many wood preservatives and exterior wood oils are available in both clear and a range of colours. More information on shed stains here.
Exterior Wood Oil for Sheds
Using an exterior wood oil or decking oil on a garden shed is a great way to nourish and maintain the timber. Wood oils penetrate in to the wood to help keep it supple and water repellent, therefore helping to prevent cracking, splitting and warping of the sheds timbers. More information on exterior wood oils suitable for sheds here.
Shed Cleaner
We've all seen or had them, the garden shed that is either partially or completely covered in green mould or algae. More of an issue for sheds that are located in damp or shaded areas, mould an algae can degrade the timber of the shed over time and shorten the life of the structure. More information on shed cleaners here.
Keeping It Natural
To keep a shed looking natural and to reduce the greying effect of weathering and UV damage, use a clear wood preserver followed with a clear UV resistant wood oil, decking oil or log cabin treatment. Using a shed preserver and exterior wood oil offers the best protection against both biological threats such as mould and algae and the effects of weathering.
Adding Colour to Garden Sheds
Sheds can look good and be protected. There are a wide variety of coloured shed paints, preservers and wood oils that will help to protect and preserve a shed while introducing a splash of colour to the garden. This can be done by…
Using a clear wood preservative then over-coating with a coloured or pigmented exterior wood oil or decking oil
Using a coloured wood preservative then over coating with a clear exterior wood oil or decking oil
Treating the shed with a clear, silicon and wax free wood preservative then over-coating with one of the many water based exterior garden paints
Although a clear or coloured shed preserver can be used as a stand-alone treatment, we recommend that it is over-coated with a suitable exterior wood oil or decking oil to provide the best possible protection. The same applies for wood oils. Although they can be used as a standalone treatment, they are less effective at protecting sheds against mould, algae and insect attack than using in conjunction with a wood preserver.
Garden Shed Restoration
If you have an old garden shed that has been neglected for a number of years, chances are that it can be restored and given a new lease of life, as long as it hasn't succumbed to terminal wood rot and not on the verge of collapse.
Garden sheds that have been previously painted or varnished and that are now cracking and peeling need to be stripped back to bare wood. This is usually best achieved with a paint scraper, stiff brush and a good paint stripper. Always use a dust mask when sanding or stripping old coatings to protect from dust and debris that may be toxic. Using a paint stripper can minimise the amount of dust released and can make it easier to collect up and dispose of the waste.
Any rotten pieces of wood should be cut out and replaced with new to prevent the wood rot spreading further. As a guide, remove all timber within 6 inches of the rotten timber. Once the shed has been stripped to bare wood and all traces of rotten timber have been removed, it's time to start the preservation process. a good quality spirit based wood treatment or wood preservative should be applied to all visible areas paying special attention to end grain if and areas where water may collect.
If the old shed is truly past saving, it may be time to take the plunge and invest in a new one. This however is a good opportunity to re-evaluate its position in the garden and ensure that its well protected with the appropriate shed treatment.
Is your shed dead?
Although there's a certain charm about an old shed that has been lovingly restored or characterised, there unfortunately comes a point where trying to revive or restore an old shed is just uneconomical in terms of time and money. The last thing that anyone wants is for the structure to collapse when trying to wrestle out the lawnmower or garden furniture. If your shed has more holes than Swiss cheese, is leaning more than the Leaning Tower of Pisa or creeks like a wooden galleon out at sea in the slightest breeze, it may be time to upgrade.
Buying the Right Shed
Depending on budget and space available, there are virtually no limits to the size, shape and style of garden sheds. Prices can start from as little as £100.00 and run in to the thousands depending on type, quality and build.
Garden sheds, summerhouses and log cabins are readily available from a wide range of retailers. Shopping around for the best deal is well worth the time as significant savings can be made on the standard high street costs. Always look out for start and end of season deals and other sales. Search and compare offers online and never be afraid to ask for a discount to get the cheapest price.
Shop online for the best shed deals
Popular online retailers with great prices, discounts and offers include…
Many of the above online shed retailers offer 0% finance or other finance deals.
In addition to garden shed care, read our top tips on protecting and preserving garden fences, decking and garden furniture.