Wooden sleepers are a popular feature for gardens. They can serve as both a practical and aesthetic addition to the garden and are used for retaining walls, garden paths, raised vegetable beds, planters and more. With such a wide range of wooden sleepers available, it's important to know what the differences are between them and how each could and should be treated for their desired use.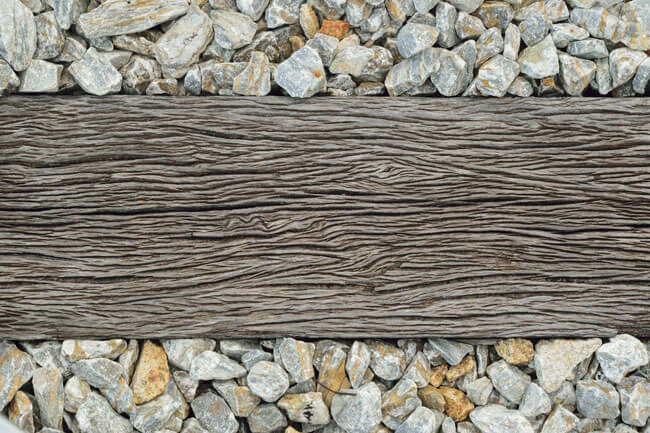 Types of Sleepers
Railway sleepers are railway sleepers, right? If only it were that simple! When looking to use wooden sleepers in your garden there are several factors to consider such as what are they being used for? Are they new, reproduction sleepers or reclaimed? What type of wood are they made from? Are the sleepers treated with anything such as oil, creosote, preservatives, or other chemicals?
Sleeper treatment – To Treat or not to treat?
Should sleeper treatments be used in a garden setting? This very much depends on the type of sleeper being used, and its intended purpose, and the type of sleeper treatment being used. Softwood, hardwood, new or reclaimed, previously treated, or untreated? The main issue for softwood sleepers is wood rot and insect attack. Mould and algae can be an issue for softwood and hardwood sleepers and especially so if they are being used for garden paths or garden steps. Raised vegetable beds and vegetable plots also need some additional considerations.
No matter how you intend to use them, here are some helpful things that will help to protect and preserve your garden sleepers.
For more information about railway sleeper uses, ideas, and sleeper treatment suggestions, read on. Alternatively, if you're looking for an answer to a garden sleeper related question, see our garden sleeper FAQ's
What wood are railway sleepers made of in UK?
Although railway sleepers are now imported from around the world, and can be made from many types of exotic hardwoods, reclaimed railway sleepers that have originated from the UK generally tend to be made from Oak
New, reproduction sleepers
New reproduction railway sleepers are often the best and easiest choice for raised vegetable beds and planters. Available in both softwoods such as pine, larch and spruce, and hardwoods like Oak, they are often supplied untreated meaning that there are no concerns with tar, creosote, preservatives, and other chemicals leaching into the soil, where fruit and vegetables are grown.
Reclaimed railway sleepers
These are the heavy-duty railway sleepers that have been reclaimed from rail networks around the world. They are extremely heavy, extremely long lasting and ideal for garden retaining walls, garden paths, garden steps, and other heavy duty garden structures and features. Depending on the country of origin, they can be made from Oak and other dense exotic hardwoods such as elm, birch, jarrah, azobé, karri, sal, mora and maple. Due to tighter restrictions on sustainability, some types of exotic hardwood sleepers are now harder to find.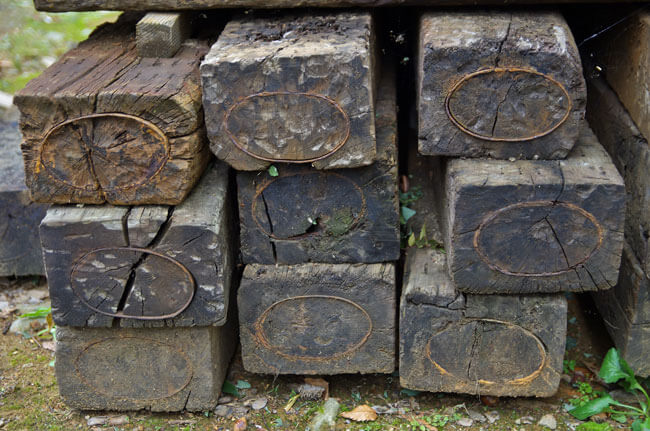 Railway sleeper uses
Sleepers can be used for a variety of functional and aesthetic purposes. below are some of their more common uses along with some suggestions on which sleepers may be best and how they could be treated.
Garden sleeper retaining wall
Using sleepers for a retaining garden wall is a great idea, and many would say a more attractive alternative to bricks or concrete blocks. Depending on how high the wall will be, advice should be taken on how best to build the retaining garden wall, in terms of bracing it and making sure that it stays upright. This can be done in a number of ways to ensure that the wall stays supported and safe.
How long a retaining wall will last largely depends on what type of sleeper is used, how it is built, where it is located, and how it is treated and protected. As a general rule reclaimed hardwood railway sleepers will last for decades if not a lifetime. Softwood sleepers require more care and will typically last for around 5 to 10 years.
Keeping soil contact off the sleeper with either a Damp Proof Membrane (DPM), a one or 2 inch drainage gap filled with shingle between the back of the sleeper and the soil, and / or using a wood representative and exterior wood oil are all things that can help to prolong the life of the timbers.
Raised vegetable beds
Growing your own fruit and veg has seen a resurgence over recent years and with waiting list times for allotments running into years, people are increasingly turning to converting sections of their gardens into mini allotments. wood sleepers are perfect for this task but there are a few things to consider.
Many reclaimed sleepers from the UK and around Europe have been treated with creosote, tar, industrial oils and other chemicals. These are great for preserving the wood but not ideal when leaching into your growing soil. For vegetable beds or growing beds, It's better to use new reproduction sleepers or if using pre-treated, reclaimed sleepers, use a heavy duty damp proof membrane (DPM) to prevent the soil from coming into contact with the wood.
New reproduction sleepers can be protected by using a wood preservative and an exterior wood oil on all sides, to provide moisture and weather resistance. Wood oils are easy to use and maintain and will help to preserve and prolong the life of your raised vegetable beds. The soil side of sleepers can be protected with a damp proof membrane or DPM.
Sleepers for garden paths
Wood sleepers are often used for garden paths. Their rustic look and natural origins have a certain charm. They can be used to make a path as narrow or wide or as long or short as you please. They can also be used as edging to paths and borders. Being in contact with the ground, hardwood railway sleepers are better suited for this project. Wooden pathways can be prone to mould and algae over time which can make them slippery. To keep them safe and protected, they should be treated with a mould and mildew remover and then treated with an exterior wood oil or decking oil. Anti-slip decking oils are a good option for additional grip.
Wooden sleepers for garden steps
Like garden paths, garden steps can also be made out of new or reclaimed railway sleepers. Reproduction softwood sleepers will require more protection with a good wood preserver and exterior wood oil to protect the wood from mould, algae, insect attack and weathering. Again, an anti-slip decking oil will help to maintain grip when steps are damp or wet. Hardwood sleepers offer more all-round durability but should still be treated with a wood preserver and wood oil to help protect and preserve them. If mould and algae start to form on garden steps, this can be quickly and easily treated with a mould and mildew cleaner, making them safe once again.
Using wooden sleepers for decorative garden features
In terms of decorative features, wooden sleepers can be used in many ways. Even in terms of retaining walls, although the standard approach is to use them horizontally, some build walls by using them vertically and even diagonally for something a little different.
Other examples include monolith type structures, simply standing exposed as garden art, railway track style garden paths and even miniature versions of Stonehenge. With a little imagination and creativity, there's literally no limit as to what can be produced in the name of garden art.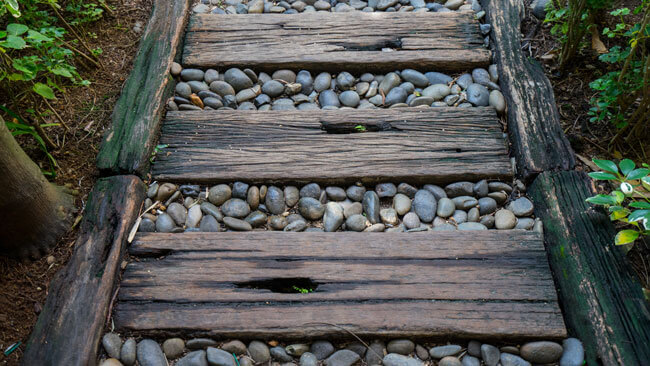 Where to buy railway sleepers
There are hundreds of places to buy railway sleepers including garden centers, timber yards and reclamation yards. You can also buy new, reproduction sleepers on Amazon, along with all the railway sleeper fixtures and fittings needed to complete your project.
Do you have a garden shed, fence or decking? Do you know how best to care for and maintain them? See our guides on: –
We also have advice and tips on how to look after and care for chickens.