Wooden garden furniture looks great when new but can, within a year or two and without maintenance, start to lose its natural colour, turning grey or silver as a result of weathering and UV exposure. For some, the aged, silver/grey look fits in perfectly with some styles of garden, others prefer to retain the new, out of the box look.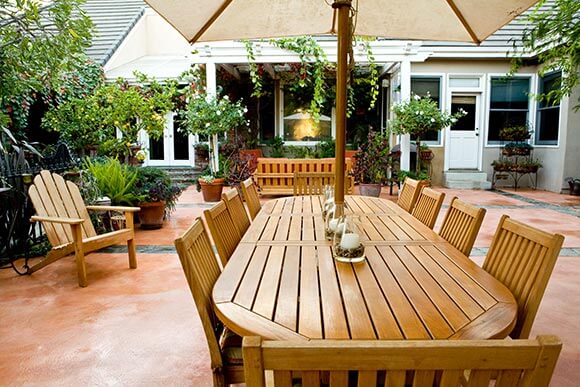 The good news is that regardless of your preference, garden furniture can be easily maintained, preserved and restored with the right garden furniture oil.
New Garden Furniture Maintenance
The easiest way to preserve the look of new wooden garden furniture sets is to use a proper wood garden furniture cleaner. These specially formulated wood cleaners will help to keep wooden garden and patio furniture clean, whilst retaining the the original oiled or stained finish. Household detergents including washing-up liquids should never be used to wipe down or clean oiled wooden furniture. These products often contain harsh detergents, cleaning chemicals or abrasives that will degrade and possibly strip the finish from the wood, leaving it exposed and vulnerable to weathering and biological threats such as mould, mildew and algae. Always use a dedicated garden furniture cleaner that is pH balanced and specifically formulated for use on wooden garden furniture.
Recommended Garden Furniture Cleaners
Furniture Clinic Teak Cleaner: An ideal solution for cleaning all types of garden furniture, marine decks and teak used in any environment. It is quick acting and will revive the natural colour of old, weathered and mould stained wood
Pro-Kleen Spray and Walk Away Green Mould and Algae Killer: Pro-Kleen is a super powerful outdoor green mould and algae removing solution – the intense cleaning fluid revives patio, decking, fencing, outdoor furniture, and more and is safe for children and pets once dry!
To maintain the weather resistant properties of garden furniture and to keep the wood supple and nourished, it is recommended that garden furniture is oiled twice a year, usually in early Spring and again mid to late Autumn, with a thin, maintenance coat of oil to help protect the wood all year round. If the furniture gets used a lot or is a situated in a particularly exposed environment, it may require a little more maintenance to keep it protected.
Top 5 Recommended Garden Furniture Oils
Keeping oiled garden furniture protected and looking great is quick and easy. All that is required is a thin application of dedicated wood oil for patio or garden furniture.
More Top Garden Furniture Oils on Amazon
Old Garden Furniture Maintenance
The way that older patio or garden furniture is maintained depends on the type of look that is preferred. For those wanting to retain the weathered, grey, or silver look, simply use a clear or natural wood oil. These contain no added colour pigments and will allow the greying process to continue, whilst keeping the wood nourished and supple. The oil penetrates into the timber to keep it supple and protected from water ingress, cracking, warping, and splitting.
For this a traditional clear wood oil like those above or below can be used. Alternatively, using a clear decking oil is also a good way to weatherproof and protect wooden garden furniture and benches.
Traditional wood oils for garden furniture
Teak Oil: A natural oil for the treatment of teak garden furniture, garden benches, wooden patio furniture and other exotic hardwoods
Pure Tung Oil: A premium, pure and natural wood oil for use on interior and exterior wood. Ideal for use on food contact surfaces such as garden table tops
Danish Oil: A highly refined, clear, Danish Oil for interior and exterior wood. Suitable for softwood and hardwood patio and garden furniture
How to restore the colour of grey, weathered, garden furniture
Wooden garden or patio furniture that has turned grey or silver as a result of weathering and UV damage can be restored. There are a couple of ways to restore the colour of garden furniture as detailed below.
The first option is to use a chemical wood restorer. These products contain an active ingredient called 'Oxalic Acid' that helps to reverse the chemical processes that turn the wood grey or silver. Usually, one application along with some elbow grease is sufficient but if the wood has been grey or silver for some time, a second application may be required.
Garden furniture colour restorers
These are chemical restorers that reverse the colour loss caused by weathering and UV damage.
Once the colour of the timber has been restored, usually within 24 hours, garden furniture can be treated with a suitable clear or coloured garden furniture oil or stain, to protect the wood and help preserve the restored colour.
An alternative to restoring the natural colour of the wood is to give the furniture a light sanding to remove any surface dirt, debris and lose fibres. Then clean the furniture thoroughly with a suitable garden furniture cleaner. The wood should be wiped over with methylated spirit before treating the furniture with a coloured garden furniture stain or oil.
When applying a garden furniture oil always do a small test area to assess product suitability and final colour before starting any project.
Garden Furniture FAQ's
Can't find the answer to your garden furniture care or maintenance project above? See our frequently asked garden furniture questions and answers page, where we try to answer some of the more commonly asked questions relating to garden furniture care, maintenance, and furniture treatments.