Garden fence stains are designed to colour and change the appearance of new and old garden fences. Available in a wide range of colours and shades, many offer protective qualities such as protection against weathering, wood rot, mould, algae and insect attack but which garden fence stain is best?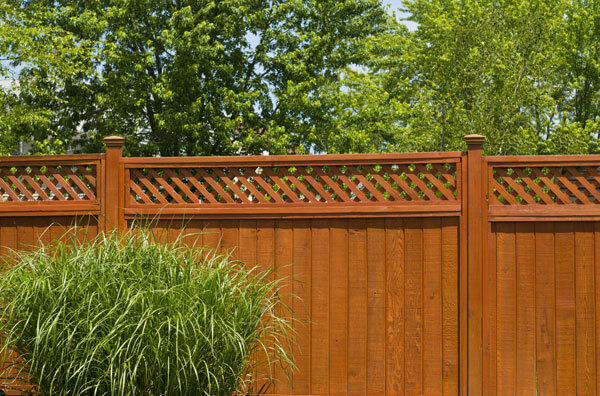 Individual choice of fence stain usually comes down to colour first and foremost. It's always worth baring in mind that the colour and condition of your fence panels will also have an influence on the final colour of the stain. For example, a stain on a new tanalised fence panel will produce a different colour to the same stain applied on an aged, weathered fence panel that has turned silver or grey over time. It's for this reason that before starting any fence staining project, a test area is done to assess the colour on your particular wood fence.
Fence stains can be quite vibrant when first applied but tend to tone down in terms of colour strength within a couple of months. so if it looks a little too striking when first applied, it should look better once weathered for a while.
Choosing the right fence stain
Fence stains generally fall in to 2 categories, those that simply colour the wood and those that colour and protect the wood. Cheaper fence stains tend to offer little in the way of protection and are prone to fading more quickly. Better quality stains tend to offer more protection against weathering, biological threats and are made with fade resistant colour pigments so they retain their colour for longer.
Types of Fence Stain
This is where things can get a little more confusing. A fence stain is anything that colours or changes the appearance of the wood. This means that the 'stain' could be a simple wood stain, a coloured wood preservative, a coloured exterior wood oil or some type of garden or fence paint. Deciding which one is best for a given project can be down to the colour it produces, the type of wood protection it offers or simply the budget available for the project.
Exterior wood preservatives, provide an all-round solution for colouring and protecting wooden fences. Available in a wide range of brown, green and black shades, they protect wood fencing and other garden wood from mould, algae, fungi, wood rot and insect attack.
Garden shed and fence paints seal the surface of the wood to prevent water ingress and therefore wood rot and decay. Garden paints are very different from interior paints as they penetrate into the surface of the wood rather than simply coating the surface. They are also flexible and move with the wood to resist cracking, flaking and peeling.
Exterior wood oils and even decking oils can be a great way to colour and protect wooden fences. Both will stain or colour the fence whilst the oil penetrates into the wood to provide excellent weather protection. Oils also keep the wood supple and help to prevent fence timbers from cracking, splitting and warping in temperature extremes.
Top 5 recommended Fence Stains
More Garden Fence Stains on Amazon
Creosote for fences
Those of a certain age will remember a time when virtually everything that was made of wood in the garden was treated with Creosote. The sale of Creosote is now regulated and can only be sold to farmers and for other, regulated industrial uses.
The good news is that there is a safer more environmentally version called 'Creocote'. This Creosote substitute is perfect for use on fences and sheds and is available in light and dark shades of brown.
Spraying garden fence stains
Staining a wooden fence can be a daunting task, it can be a large area to cover. Using a pump or pressure sprayer is a great way to stain large areas in a fraction of the time. Before using a sprayer, a couple of precautions should be taken.
Is the fence stain sprayable? Not all fence stains or preservers are
Is the product safe to spray? Some solvent-based fence stains may be unsuitable for spraying and harmful if breathed in. Always check the manufacturers label and instructions
Wear protective clothing to avoid spray coming into contact with eyes, skin and clothing.
Take care not to get over-spray onto the neighbours side of the fence, their home, car or anything else
Don't try to spray stain a fence in high winds or when rain is expected
Avoid getting any fence stain on stone, brick, concrete, patios, paving or any other porous surfaces as it is unlikely to come out
Recommended garden pump sprayers
When choosing a garden pump or pressure sprayer, it is worth checking to see if it is suitable for the product to be sprayed. Many pump sprayers are only suitable for water-based products. This doesn't mean that solvent-based products can't be used but the solvent may start to dissolve the seals, washers and hoses after a couple of days. Buying a cheap sprayer and accepting that it may not last more than a couple of days could still be a better option than buying a more expensive model if the job can be done in a couple of days.
VOXON 5L Pump Action Pressure Sprayer: The VOXON Pump Action Pressure Sprayer is a manually operated pressure sprayer with a 5 litre capacity, it is a multi-purpose, effective pressure sprayer for outdoor use.
Spear and Jackson Pump Action Pressure Sprayer, 5 Litre: The Spear and Jackson pump action pressure sprayer is a manually operated pressure sprayer with a 5 litre capacity. The translucent bottle is clearly marked with graduations in both litres and fluid ounces for accuracy.
Ansio Garden Sprayer 5 litre Pressure Sprayer: For use with water or other non -viscous water-based products including pesticides, herbicides, insecticides, fungicides, fertilisers for use in garden, lawns etc. Offers easy distribution and spraying.
More Top Garden Pump Sprayers on Amazon
Staining New Fence Panels
New fence panels rarely need staining as they have either been pre-treated with a coloured wood treatment or have the natural colour of the wood used to make the fence panel. This doesn't mean that the existing colour can't be changed or enhanced if a stronger colour is required. For example, light brown panels can be treated and stained with a dark brown wood preserver whilst green coloured panels can be stained with a stronger or darker green wood preservative.
Staining Old Fence Panels
Untreated wooden fences will eventually turn grey or silver over time, usually in just a couple of years depending on how much water and UV (ultraviolet) light they are exposed to. Applying a coloured fence treatment to a fence panel that has been bleached will mean that the final colour won't be influenced by any previous colour or treatments.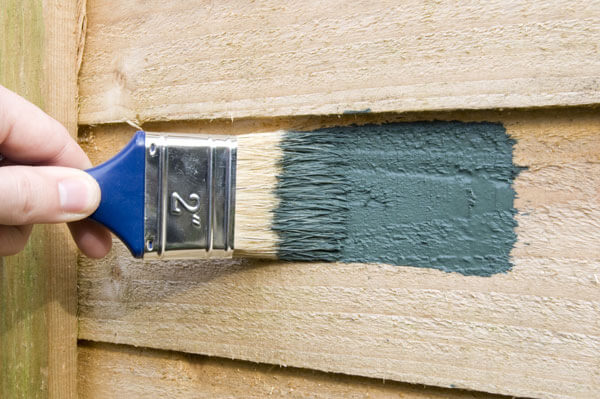 Before staining, it is highly recommended that any traces of mould, algae and biological growth is first treated with a mould and mildew cleaner. This will help to kill the mould spores in the wood and with the aid of a wood preservative, clear or coloured, will help to prevent future growth. Apart from keeping the fence looking nice, it'll also help to prolong the life of the fence timbers.
Types of fencing
Its worth mentioning that wooden fencing come in many shapes, styles, and different wood types. Although the majority are made from rough sawn softwoods slats others are available in smooth planed hardwood timbers. Rough sawn softwoods are more porous which means that they will absorb more of the stain or meaning less coverage and a darker or stronger colour, whilst smooth planed hardwood fences will use less product usually resulting in a lighter colour tone.
When to stain garden fences
The ideal time to stain garden fences is Spring through to Autumn when several days and nights of dry weather, and where temperatures remain above 10 degrees centigrade are expected. This gives wooden fences time to fully dry out before and after any fence stain is applied.
Garden Fence FAQ's
Can't find the answer to your fence care or maintenance project above? See our frequently asked garden fence questions and answers page, where we try to answer some of the more commonly asked questions relating to wood fence care, maintenance, and fence treatments.