Treating wooden fences with a garden fence paint is a great way to add colour and character to a garden. In fact, many displays at national gardening shows and events demonstrate how a painted fence can enhance and transform outdoor living spaces.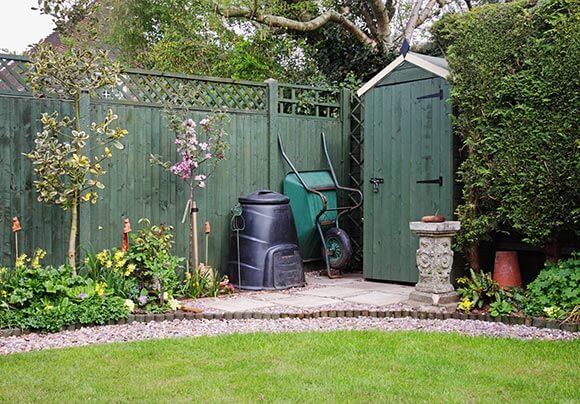 For example, darker colours such as black, grey or deep blue can enhance the lush greens of plants and shrubs whilst Lighter pastel shades and warm tones can introduce a more Mediterranean feel. In addition to adding colour, fence paints also help to protect wooden fence panels from weathering, therefore preserving the life of the fence.
Popular garden fence paints
For a wider range of products, see a complete range of fence paints on Amazon including 'Ronseal Fence Life', 'Cuprinol Fence Care' and more.
Creosote
Those of a certain age will remember when anything wood in the garden used to be treated with Creosote. The sale of Creosote is now regulated and can only be sold to farmers and for other industrial uses.
The good news is that there is a safer more environmentally version called 'Creocote'. This oil based Creosote substitute is perfect for use on garden fences and sheds and is available in light and dark brown.
Barrettine Creocote: An oil-based Creosote substitute for exterior wood available in light and dark shades
What is a garden fence paint?
When it comes to colouring a garden fence, there are actually several ways that this can be done.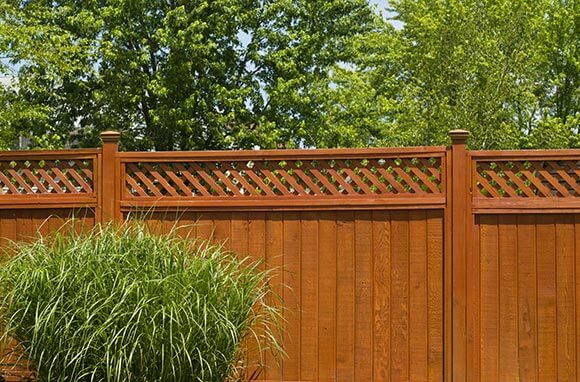 Although wood preservers are designed to protect wood from mould, algae and insect attack, coloured fence preservers also act as a stain so can be used to colour and protect wooden fences. Although wood preservers tend to come in shades of brown such as light brown, dark brown, Cedar Red, Summer Tan, Oak and Golden Brown, they also include shades such as black and green.
In addition to coloured wood preservers, coloured exterior wood oils can also be used to colour and protect garden fences. There are a multitude of translucent and opaque coloured wood oils suitable for garden fences. Decking oils are also a great alternative for protecting and colouring fences and are available in a wide range of colours and shades. Oils are a great option as in addition to colouring the wood, the oil keeps the wood nourished and supple. The oil and wax content of these products provides excellent weather protection by repelling rain so that it runs off the wood.
Top Tip
If looking to treat garden fences prior to painting with a a wood preservative, it's important to make sure that its one that does not contain wax, oil or silicon. These types of wood preservative are often labelled as being water or weather resistant.
Wood preservers that contain wax, oil or silicon cannot be used with water-based fence paint as they will repel the paint and prevent it from coating or staining the wooden fence panel and posts.
Alternatives to fence paint
Coloured Fence Preservatives: Available in a variety of colours, coloured wood preservatives both colour and protect wooden fence panels and posts
Coloured Exterior Wood Oils: Coloured exterior wood oils are available in both translucent and opaque formulations. These products offer excellent weather protection with their high wax and oil content
For information and advice on other garden fence treatments click here.