Using a fence paint is a great way to add colour and character to a garden. In fact, many displays at national gardening shows and events demonstrate how paint for a fence can enhance and transform outdoor living spaces. And, with so many fence paint colours available, there's no limit to what can be achieve with your outdoor living spaces.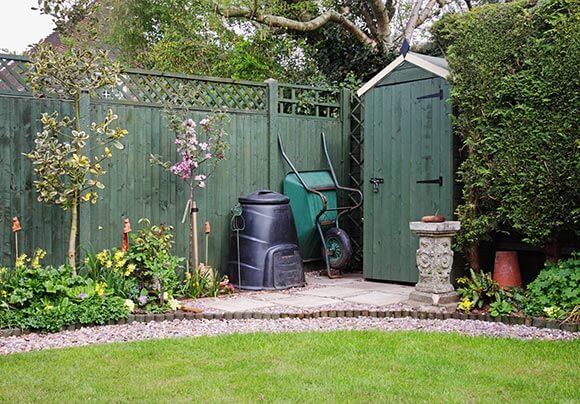 For example, darker fence paints such as black, grey or deep blue can enhance the lush greens of plants and shrubs whilst lighter pastel shades and warm tones can introduce a more Mediterranean feel. In addition to adding colour, fence paints help to protect the wood from weathering and water ingress, therefore extending the life of garden fences.
Garden paints explained
The term 'fence paint' can be confusing as fence stains and coloured preservers are often referred to as fence paints. Confused? In a nutshell, paints tend to be opaque and available in a wide spectrum of colours whereas fence stains, preservers and oils tend to be clear or only available in shades of brown, green and black, although this is not always the case.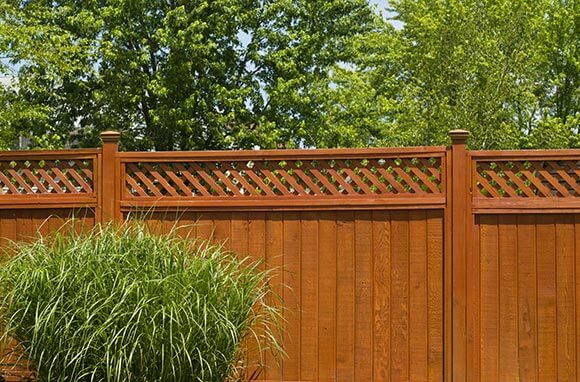 Although wood preservers are designed to protect wood from mould, algae and insect attack, coloured fence preservers are also used to stain and colour new and old wooden panels. Mainly available in light, medium and dark shades of brown some preservers are also available in black, greys and greens.
Exterior wood oils are also used to colour and protect fences. Available in clear and a multitude of translucent and opaque coloured finishes, the oil and wax content provides excellent weather protection, repelling rain so that it beads and runs off the wood. Coloured decking oils are also perfect for protecting and colouring wooden fences as in addition to colouring the wood, the wax, oil and resins keep the wood nourished and supple.
Creosote for fences
Those of a certain age will remember a time when virtually everything that was made of wood in the garden was painted with Creosote. The sale of Creosote is now regulated and can only be sold to farmers and for other, regulated industrial uses.
The good news is that there is a safer more environmentally version called 'Creocote'. This Creosote substitute is perfect for use on sheds and fences and is available in light and dark shades of brown.
Top 6 recommended fence paints
These are the top fence care products that are most often referred to and marketed as 'fence paints' or 'paint for fences'.
More Top Fence Paints on Amazon
Spraying wooden fence panels
Painting a garden fence can be a daunting task. Using a garden pump sprayer is a great way to paint large areas in a fraction of the time. Before using a sprayer, a couple of precautions should be taken.
Is the fence paint sprayable? Not all paints, stains or preservers are
Is the garden pump sprayer suitable for spraying fence treatments? Many garden sprayers are only designed to spray water. As garden paints and other fence treatments are more viscous, the sprayer may not be suitable. A dedicated fence sprayer may be required.
Is the product safe to spray? Some solvent-based products may be unsuitable for spraying and harmful if breathed in. Always check the manufacturers label and instructions
If spraying solvent-based preservers, is the sprayer compatible with solvent-based products? many pump sprayers are only designed for water or water-based products. Solvents may perish or degrade the washers, seals and hoses of some sprayers. This said, if the whole garden fence can be sprayed in just a few hours or a day or 2, it is probably worth the cost of the sprayer
Wear protective clothing to avoid spray coming into contact with eyes, skin and clothing.
Take care not to get over-spray onto the neighbours side of the fence, their home, car or anything else
Don't try to spray paint wooden fences in high winds or when rain is expected
Top Tip
When using a wood preservative prior to painting, it's important to make sure that the preserver does not contain wax, oil or silicon. These types of wood preservative are often labelled as being water or weather resistant.
Wood preservers that contain wax, oil or silicon cannot be over-coated with water-based paint as they will repel the paint and prevent it from coating or staining the wooden panel.
If your fence has any signs of green or black mould, algae, moss, or other biological growth, it's important that all surface matter is removed with a stiff broom or brush and then treated with a mould and algae cleaner. This not only cleans off any existing discoloration but will kill off any mould or algae spores in the wood before preserving and painting the fence.
Alternatives to fence paint
Coloured Fence Preservatives: Available in a variety of colours, coloured wood preservatives both colour and protect wooden fence panels and posts
Coloured Exterior Wood Oils: Coloured exterior wood oils are available in both translucent and opaque formulations. These products offer excellent weather protection with their high wax and oil content
For information and advice on other garden fence treatments click here.