Decking oils preserve, nourish and protect garden decking from weathering, the day to day wear and tear of foot traffic, water, dirt and other surface contaminates. With so many decking oil products available, it can be difficult deciding on which one is right for your decking boards.
Types of decking oil
Choosing the right decking oil and the one that best meets your requirements can depend on the type of decking you have, the desired finish, budget, performance and maintenance expectation.
Treating New Decking
Applying a oil to new decking is usually straight forward as there is no need to take in to account previous decking treatments or coatings.
While softwood decking can be oiled from new, new hardwood decking boards often need to be allowed to weather for a time before applying a decking treatment. Dense exotic hardwoods are naturally oily and have a tight grain. If an oil is applied too soon, it may not penetrate into the surface of the decking boards. Allowing hardwood decking to weather for a time to allow some of the natural wood oils to dissipate and for the grain to open is recommended. Read the instructions from the decking supplier as this may vary depending on the type of decking and species of wood used for the decking boards. Once the grain opens up the boards will more readily accept the oil. Some types of exotic hardwood timber such as Ipe, Yellow Balau, Massaranduba Cumaru, Iroko and of course Teak may require a highly refined or extra thin deck oil such as Osmo Decking Oil for the best results.
Clear decking oil
Clear decking treatments are designed to nourish and protect garden decking whilst retaining the natural character of the timber. Clear products tend to darken the wood slightly, giving an almost damp like appearance, whilst enhancing the natural grain and character of the wood. To get an indication of how decking will look when oiled, simply wipe over a section of the untreated decking with a slightly damp sponge.
Although many clear decking oils contain UV filters to help protect the wood from the greying effects of UV exposure, Not all do. Clear oils with UV filters work like sun tan creams. Although they help to filter UV rays, they don't stop them. This means that decked areas will naturally turn gey over time, albeit at a much slower rate than decking treated with a non UV resistant decking treatment.
Coloured decking oil
Coloured decking oils are great for changing the appearance and character of wooden decking. Available in a wide range of brands and colours, coloured oils are a great way to restore the appearance of old, tired and grey decking. Coloured decking treatments tend to offer a higher UV resistance to sun damage because of the colour pigments suspended in the oil.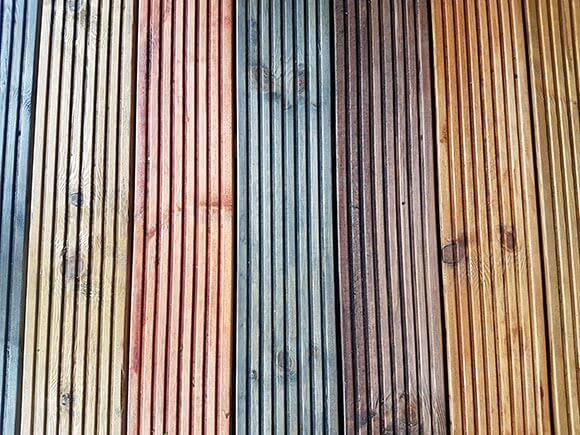 Recommended Decking Oil Products
The following oil-based decking treatments are available in both clear and coloured formulations and are suitable for both softwood and hardwood decking.
Anti slip decking oil
Ideal for decking steps and other outdoor wooden steps, anti-slip or slip-resistent decking oils contain small particles within the oil that bond with the surface of the wood to create a microscopic textured layer. These oils are perfect for raised decks with steps and decked areas located at commercial premises such as pubs, restaurants and clubs where safety is a top priority.
Anti slip decking products work because the fine particles they contain dry to form a slightly textured surface. Although too small to see, the dried oil provides improved friction and grip between shoes, feet and the surface of the wooden deck.
Recommended anti-slip decking oils
Although Anti-slip decking oils tend to only be available in 'clear' formulations, they can be applied over a coloured deck oil once it has dried to provide a coloured finish with slip resistance properties.
Rustins Textured Decking Oil: A high quality, clear anti slip decking oil for use on softwood and hardwood decking. Contains Ultra Violet light inhibitors to protect decking from sun damage
Osmo Anti-Slip Decking Oil: A high quality, anti-slip decking treatment for all garden decking. Perfect for decking steps and decking situated in commercial areas such as pubs and restaurants
Barrettine Anti-Slip Decking Oil: A premium quality deck oil for use on all types of wooden decking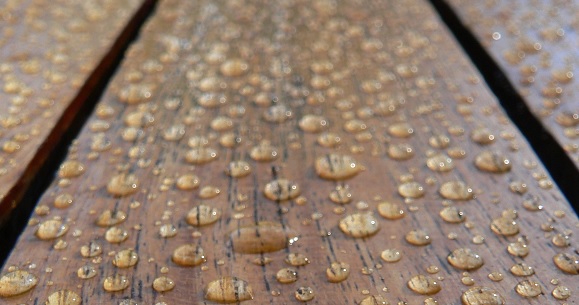 What is the best decking oil?
Deciding on what is the best decking oil largely depends on the individual project, the desired look and performance. Some factors are straight forward such as whether to buy a clear product to retain the natural colour of the deck or a colour tinted oil to add character or to achieve a specific look. Other factors to take in to consideration are do you require UV resistance, protection against mould and algae or a decking oil that offers slip resistance, especially useful on decking steps or decked areas at commercial properties such as pubs and garden centers.
How and when to apply decking oil
Applying a decking oil to new, bare wood decking is quick and easy. Simply follow a few simple rules and your new garden decking will look amazing in no time.
Sweep with a stiff broom to remove any lose leaves and other surface debris
Ensure that the decking is clean and dry
Treat any mould or algae (green or black patches in the timber) with a suitable decking cleaner. A second application may be required if the decking is heavily soiled
Apply the oil thinly and evenly working it in to the surface of the timber – avoid pools of oil on the surface and wipe of any excess
Wait the specified drying time on the tin before applying a second coat
Most decking oils only require two coats. Although there may be a temptation to apply three, four or more coats, this can actually cause a number of issues such as.
Extended drying times of days or weeks
Sticky or tacky surface
A surface skin or film that will be easily marked or peeled off
If wooden decking hasn't been treated for a number of years and is exceptionally dry, it may absorb 3 coats of oil. After applying the recommended amount stipulated on the tin, wait a couple of days and try a thin third coat on a small test patch. If the third coat is absorbed by the deck and dries normally, it's probably OK to apply a thin third coat. If the oil on the test area beads or sits on the surface, does not dry or remains sticky after 24 hours, it's an indication that the wood has taken as much oil as it can and is not ready for more.
When to apply decking oil
Ideally, decking oils should only be applied when air temperatures are above 10 degrees centigrade and is forecast to stay mild and dry for 24 to 48 hours. Although most decking oils are touch dry in just a couple of hours, they usually need 24 to 48 hours to oxidise and harden in the surface grain of the wood before they offer their full protection and are ready for heavy foot traffic. Spring, Summer and early Autumn are ideal times to oil decking.
Autumn Decking Maintenance
Although most people only tend to think about oiling decking in the spring, it is also recommended to apply a maintenance coat or 2 before winter sets in. Oiling a decking in Autumn will help to protect the decking boards through the cold, wet winter months when snow, ice and freezing rain can damage the wood.
When is a deck oil not suitable?
Wood oils work by penetrating in to the surface of the decking boards where it oxidizes, dries and hardens. This cannot happen if the decking is already treated with a decking paint or varnish like decking stain. These types of decking treatments seal the surface of the timber with a plastic like film therefore preventing the deck oil from penetrating into the wood.
Decking preservation and cleaning treatments
For information on decking preservation, maintenance and cleaning, see our decking cleaners, restorers and decking preserver pages.